Exotic Leather Boots & Products in Clinton, LA
Acadian Leather has been an exotic skin broker and leather dealer since 1993! We sell in stock genuine alligator skin, ostrich, and exotic leather products for men and women, including boots, purses, shoes, wallets, belts, clutches and briefcases. We even have boots and accessories for motorcycle enthusiasts!
All of our products are available for customization. Customers choose the color, shape, stitching, pattern and type of skin; we bring it to life in a totally unique product you'll absolutely love!
Contact us today to learn more.
25 Years of Experience
We've been in the business for more than 25 years, dealing mainly with alligator and ostrich leathers.
We take pride in the craftsmanship and quality of our products. Interested in leather products? Fill out the form and we'll get back to you.
The Finest Leather Products
Acadian Leather Products was founded in 1992 on a 45-acre ostrich farm owned by the Dermody family of Clinton, LA, named Acadian Ostrich Ranch. At the time, there was high demand for baby ostrich chicks and their eggs to be sold to other farms for breeding purposes. But, as the market became saturated with breeders, the Dermody family chose to adapt rather than collapse. Within 5 years, Acadian Ostrich Ranch began selling their free-range ostriches for meat and hides. And, soon after that, the shift was made to enter the exotic skin market as a seller of custom, exotic leather products in Clinton and Baton Rouge, LA.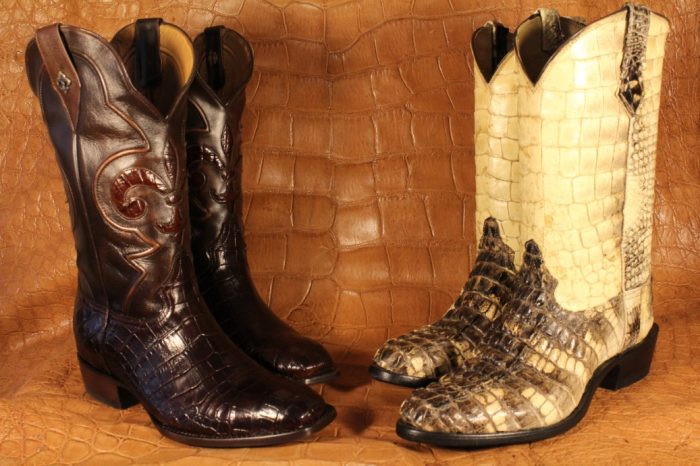 Today, we specialize in Alligators and Ostrich—although our experience with animal hides and leathers extends far beyond these! From Caiman and Crocodile to python and lizard to elephant and hippo skin in Clinton, LA, we're committed to bringing our customers beautiful, tailored products made from the world's very best leathers. We sell high-end boots, shoes, belts, wallets, money-clips, business card holders, purses, briefcases, and much more—all made exactly to the specifications and desires of our customers. We even sell finished alligator skins! If you're looking for superior-quality exotic leather products, knowledgeable professionals and the ability to get the exact products you're looking for, the answer is simple: Acadian Leather.
We're known for our high level of specialty products and our ability to custom-design virtually any leather good for our customers!
Our business is highly regarded for customer service and our thorough expertise regarding all different types of leather and leather goods.
Our experience as leather brokers includes all types of leathers, including alligator, caiman, crocodile, ostrich, elephant, stingray, python and cobra skin.
We're Licensed by the Louisiana Department of Wildlife and Fisheries. We strive to source our leathers from responsible, sustainable sources.
Love Your Leather
We make it easy to get the customized leather goods you want; with the quality and personality you deserve. Contact us today regarding any of our exotic leather products or to inquire about custom leathers.
Proudly providing exotic leather skins in Baton Rouge and the surrounding areas:
Clinton, LA
Ethel, LA
Baker, LA
New Orleans, LA
Central, LA
Zachary, LA
Port Hudson, LA
Jackson, LA
Greensburg, LA
Watson, LA
Montpelier, LA
Hardwood, LA
St. Francisville, LA
Denham Springs, LA
Hammond, LA
Slaughter, LA
Lafayette, LA
Norwood, LA
Coleman Town, LA
Greensburg, LA
Some of Our Work